Bengaluru Metro
The Bengaluru Metro, also referred to as Namma Metro, serves the urban area of Bengaluru, India, as a swift transit system. It stands as India's second longest functional metro network, trailing only the Delhi Metro. Notably, upon its commencement, it marked the first subterranean metro system in South India. Namma Metro boasts a combination of subterranean, ground-level, and elevated stations. Presently, as of March 2023, out of the 64 operational metro stations within the Namma Metro system, 55 are elevated, 8 are underground, and 1 is at-grade. The system operates on tracks adhering to the standard gauge.
Overseeing the creation, operation, and expansion of the Namma Metro network is the Bengaluru Metro Rail Corporation Limited (BMRCL), which is a collaborative effort between the Government of India and the State Government of Karnataka. The metro services run daily from 05:00 to 24:00, with train frequencies varying from 5 to 15 minutes. While initially commencing with three coaches, the trains were subsequently upgraded to six coaches due to increasing ridership. The metro system is powered by a 750kV direct current supplied through a third rail. As of April 2023, the average daily ridership of the metro system amounts to approximately 570,000 commuters.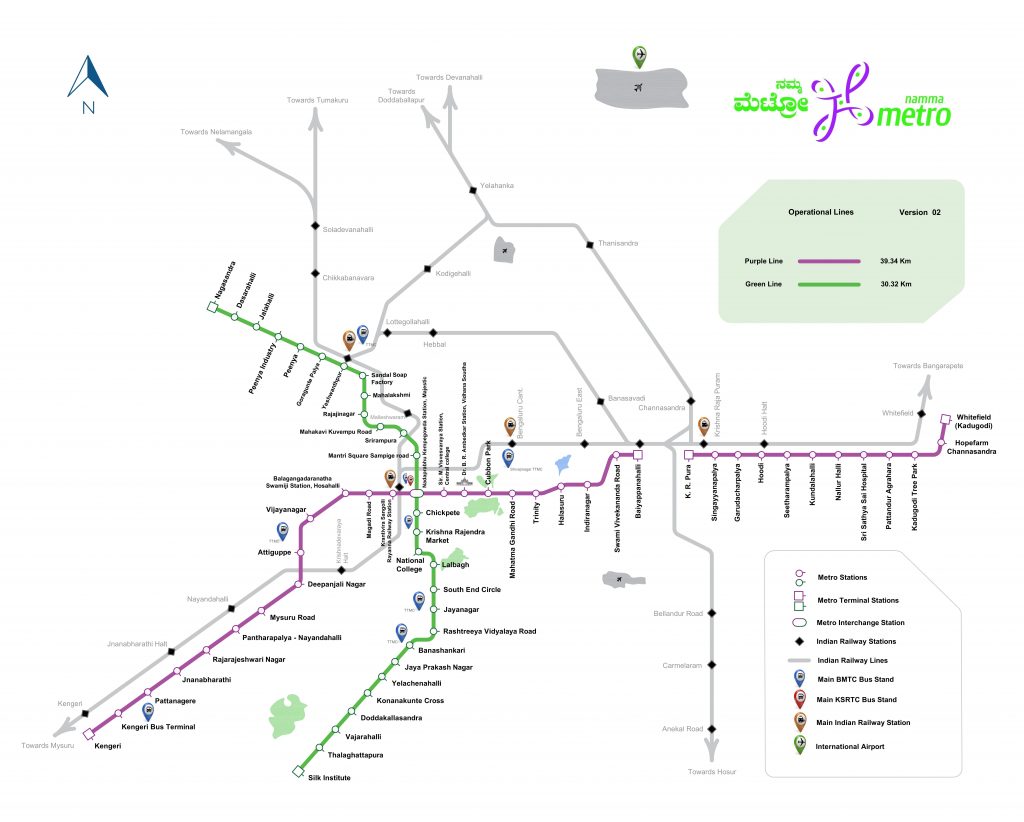 | | |
| --- | --- |
| Owner | Bengaluru Metro Rail Corporation Limited (BMRCL) |
| Transit type | Rapid transit |
| Operational Line | Purple Line, Green Line |
| Number of Stations | 63 |
| Train Coaches | 6 |
| Average Speed | 35 km/hr |
| Top Speed | 80 km/hr |
| Official Website | https://bmrc.co.in/ |
| Number of Tracks | 2 |
Bangalore Metro Schedule and Ticket Pricing
The Namma Metro operates with a frequency of approximately 4 to 5 minutes between each metro train, ensuring efficient service. The operational hours for Bangalore metro trains span from 5 am to 11 pm, encompassing Monday to Friday. However, on the second and fourth Saturdays of the month, as well as during public holidays, the service initiates at 6 am and concludes at 10:30 pm.
For Sundays, the metro timings in Bangalore are set from 7 am to 11 pm. Fares for metro rides start at Rs 10, while the highest fare is around Rs 60. The fare structure is determined based on the distance covered by the passenger from the boarding station.
Purple Line
The Purple Line runs in an east to west direction, linking Baiyappanahalli in the eastern part of the city to Kengeri in the southwest. This 25.7 km route encompasses 22 stations. It features elevated tracks on both its eastern and western portions, with a 4.8 km underground segment situated in the middle. Noteworthy urban hubs such as MG Road, Majestic, Railway Station, and Vidhana Soudha are among the pivotal locations the line traverses. An ongoing expansion effort is underway as part of Phase-2.
The initial section of the Purple Line, spanning 6.7 kilometers and incorporating 6 stations (Reach 1), commenced operations on October 20, 2011, connecting Baiyappanahalli to Mahatma Gandhi Road. This marked the inaugural segment of the Namma Metro. Subsequently, the second section, spanning 6.4 kilometers with 6 stations (Reach 2), between Mysore Road and Magadi Road, opened on November 16, 2015. The subterranean passage, a 4.8 km stretch from Cubbon Park to Bengaluru City (KSR) Railway Station, was inaugurated on April 29, 2016, thereby establishing the linkage between the previously operational east and west sections. The opening of this underground section marked the completion of the entire Purple Line in Phase-1.
The list of stations covered on the Bangalore Metro Purple Line are :
| | | |
| --- | --- | --- |
| Station Name | Interchange/Connections | |
| Whitefield | Whitefield Railway station | |
| Channasandra | | |
| Kadugodi | | |
| Pattandur Agrahara | | |
| Sri Sathya Sai Hospital | | |
| Nallurhalli | Whitefield TTMC | |
| Kundalahalli | | |
| Sitharama Palya | | |
| Hoodi Junction | | |
| Garudacharapalya | | |
| Mahadevapura | | |
| Krishnarajapuram | Blue line- KRPuram Railway Station | |
| Benniganahalli | Benniganahalli Railway Station | |
| Baiyappanahalli | Benniganahalli Railway Station | |
| Swami Vivekananda Road | | |
| Indiranagar | | |
| Halasuru | | |
| Trinity | | |
| Mahatma Gandhi Road | Pink Line | |
| Cubbon Park (Sri Chamarajendra Park) | | |
| Dr. BR Ambedkar Station (Vidhana Soudha) | | |
| Sir M. Visveshwaraya Station, Central College | | |
| Nadaprabhu Kempegowda station, Majestic | Green line- KG Bus Station | |
| Krantivira Sangolli Rayanna Railway Station | City Railway Station | |
| Madagi Road | | |
| Balagangadharanatha Swamiji Station, Hosahalli | Orange Line | |
| Vijayanagara | | |
| Attiguppe | Vijayanagara TTMC | |
| Deepanjali Nagara | | |
| Mysuru Road | Orange Line | |
| Nayandahalli | | |
| Rajarajeshwari Nagar | | |
| Jnanabharathi | Jnanabharathi Railway Station | |
| Pattanagere | | |
| Kengeri Bus Terminal | Kengeri TTMC | |
| Kengeri | | |
During Phase-2, a 7.5 km extension towards the southwest was introduced on August 30, 2021. Additionally, an eastern extension of 15.2 km leading to Whitefield is currently in progress. While 13.7 km of this extension opened for service on March 26, 2023, a small segment (Baiyyappanhalli-KR Puram) remains incomplete and is projected to be finished by June 2023.
Green Line
The Green Line is oriented from north to south, connecting Nagasandra in the northwest to Silk Institute in the southwest. This extensive route spans 30.4 kilometers and encompasses 30 stations. It features elevated tracks on its northern and southern stretches, with a 4.0 km underground portion positioned in the middle. The Green Line transverses industrial sectors like Peenya and Yeshwanthapur in the north, as well as commercial centers such as Majestic, Chikpete, and City Market. It also links sizeable residential areas in the south including Basavanagudi, Jayanagar, and Banashankari. Similar to the Purple Line, the Green Line is undergoing expansion within Phase-2.
The initial 9.9-kilometer segment of the Green Line, encompassing 10 stations, opened on March 1, 2014, connecting Sampige Road to Peenya Industry. The subsequent 2.5-kilometer stretch with 3 stations from Peenya Industry to Nagasandra commenced operations on May 1, 2015. The third phase, connecting Sampige Road to Yelachenahalli, was inaugurated on June 17, 2017, marking the completion of Phase 1. These segments, including the underground portion, were inaugurated by the late President, Shri Pranab Mukherjee, on March 17, 2017.
The list of stations covered on the Bangalore Metro Green Line are :
Station Name
Interchange/Connections
Madavara
Chikkabidarakallu
Manjunathanagara
Nagasandra
Dasarahalli
Jalahalli
Basaveshwara Bus Station
Peenya Industry
Peenya
Goraguntepalya
Orange Line
Yeshwanthpura
Yeshwantpur Railway Station
Sandal Soap Factory
Yeshwantpura TTMC
Mahalakshmi
Rajajinagara
Mahakavi Kuvempu Road
Srirampura
Sampige Road
Nadaprabhu Kempegowda station, Majestic
Purple Line, KG Bus Station,
KSR Railway Station
Chikpete
Krishna Rajendra Market
National College
Lalbagh Botanical Garden
South End Circle
Jayanagar
Jayanagara TTMC
Rashtreeya Vidyalaya Road
Yellow Line
Banashankari
Banashankari TTMC
Jaya Prakash Nagar
Orange Line
Yelachenahalli
Konanakunte Cross
Doddakallasandra
Vajarahalli
Thalaghattapura
Silk Institute
Under Phase-2, a 6.29-kilometer section extending from Yelachenahalli to Silk Institute was launched on January 14, 2021, becoming the initial part of Phase-2 to be operational. The forthcoming northern extension of 3.8 km to Madavara is anticipated to open in the middle of 2023.
Bangaluru Metro App
The Namma Bangaluru application enables users to buy QR tickets conveniently. Presently, this application is accessible exclusively to Android users. Moreover, the app provides a comprehensive list of Bangalore metro stations. Additionally, the digital platform will offer access to auto and taxi services for users.
Bangalore Metro Fare Chart
Bangalore Metro Rail has fixed fare rates for the passengers on its routes. The minimum metro rail fare is Rs. 10 and the maximum metro fare is Rs. 60
Interesting Facts About Bangalore Metro
It's the first metro in South India to go underground.
Rainwater is collected, cleaned, and turned into drinking water for the metro.
You get a 15% discount on the normal ticket price with a smart card.
The tracks are built with a standard gauge of 1435 mm.
Frequently Asked Questions About Bangalore Namma Metro
Q. What are the operating hours of Bangalore Metro?
A. Bangalore metro trains run from 5 am to 11 pm on Monday to Friday. On Sundays, the timings are from 6 am to 11 pm.
Q. Is the Metro running in Bangalore?
A. Yes, the Metro is operational in Bangalore with two lines (Green and Purple) and 51 stations.
Q. Is it safe to use the Metro in Bangalore?
A. Absolutely, it's safe to travel by Metro in Bangalore. There are security checks and assistance personnel at every station.
Q. Does the Green Line Metro run in Bangalore?
A. Yes, the Green Line of the Bangalore Metro is running. It covers 29 stations from Nagasandra to Silk Institute.
Q. Is the Purple Line Metro operational in Bangalore today?
A. Yes, the Purple Line of the Bangalore Metro is operational today. It connects Whitefield to Challaghatta and serves 37 stations.
Q. What time does the Bangalore Metro start on Sundays?
A. On Sundays, the Bangalore Metro starts at 6 am and runs until 11 pm.
Q. Is a Metro Card necessary in Bangalore?
A. A Metro Card is not compulsory for Bangalore Metro. Passengers can buy QR tickets through the Metro app and use them at the QR-enabled Automatic Fare Collection gates.
Q. What items are not allowed in Bangalore Metro?
A. Prohibited items in the metro include sharp objects, firearms, tools, explosives, flammable materials, harmful chemicals, and pets.
Q. Can alcohol be carried on the Bangalore Metro?
A. No, alcohol is not permitted on the Bangalore Metro.
Q. Does Bangalore Metro accept cash?
A. Yes, passengers can use cash, UPI, or cards to top up and purchase cards or tickets.
Q. How can I travel on the Bangalore Metro?
A. Passengers need to board a train from the station after going through security checks. A ticket or metro card is required, which can be purchased at the station or through the app for your destination.
Q. How much does a 30-day metro pass cost in Bangalore?
A. Currently, there are only 2-day and 3-day passes available for the Bangalore Metro. The 2-day pass costs Rs. 200, and the 3-day pass costs Rs. 400.