Price of a Maruti Suzuki Alto K10 on the road in Delhi
The All-New Alto K10 is a standout addition to the Maruti Suzuki lineup of vehicles thanks to a completely fresh, youthful, and contemporary design packed with gorgeous features like the Honeycomb Grille and the vivacious Headlamps. The Next Generation 1.0L K-Series Dual Jet, Dual VVT engine that powers the All-New Alto K10 allows you accelerate whenever and wherever you desire, assuring pure joy of mobility.
The Maruti Suzuki Alto K10 is priced in Delhi between 4.43 and 6.47 lakhs. Hatchback Alto K10 is available with a 998 cc Petrol engine option. On the road, a 998 cc petrol engine costs between 4.43 and 6.47 lakh.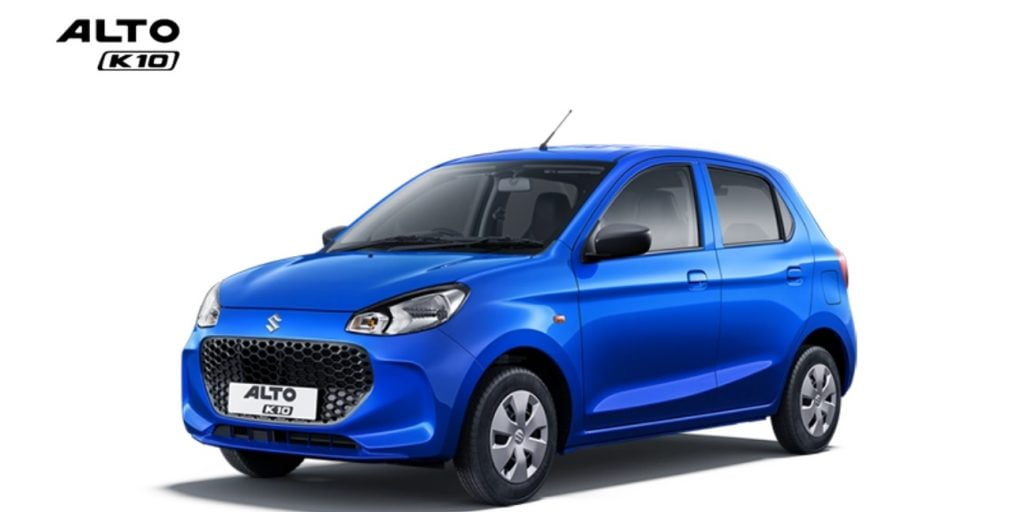 Some of the features of New Alto K10 are :
Double Airbags
Electronic Brake Distribution and ABS
Sensors for reverse parking
Versions
On-Road Price

Alto K10 Std

998 cc, Petrol, Manual, 24.39 kmpl, 66 bhp

4.43 Lakh

Alto K10 LXi

998 cc, Petrol, Manual, 24.39 kmpl, 66 bhp

5.37 Lakh

Alto K10 VXi

998 cc, Petrol, Manual, 24.39 kmpl, 66 bhp

5.56 Lakh

Alto K10 VXi Plus

998 cc, Petrol, Manual, 24.39 kmpl, 66 bhp

5.94 Lakh

Alto K10 VXi AGS

998 cc, Petrol, Automatic (AMT), 24.9 kmpl, 66 bhp

6.11 Lakh

Alto K10 VXi Plus AGS

998 cc, Petrol, Automatic (AMT), 24.9 kmpl, 66 bhp

6.47 Lakh