Delhi Airport Duty Free Liquor: A Guide for Travelers
Are you planning a trip through Delhi Airport and wondering what the duty free options are for purchasing liquor? Look no further! Here is a guide to help you navigate the duty free liquor options at Delhi Airport.
First and foremost, it's important to note that the availability and prices of liquor at duty free shops can vary depending on the terminal you are departing from and the country you are traveling to. It's always a good idea to check the duty free website or ask a staff member for specific product availability and pricing.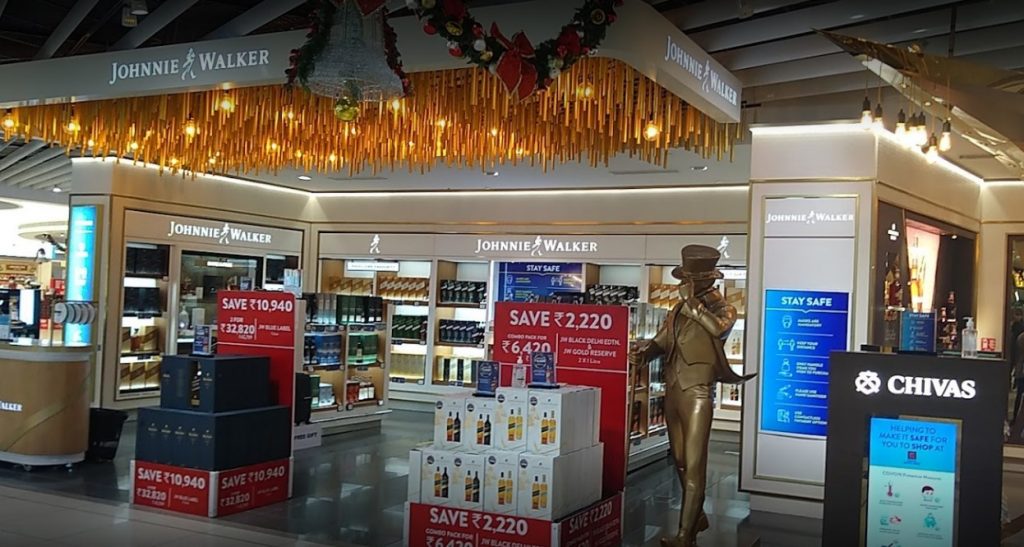 With that said, Delhi Airport offers a wide selection of international and domestic spirits, wines, and beers at duty free prices. Some popular brands that you may be able to find include Johnnie Walker, Jack Daniel's, Chivas Regal, Bacardi, and Absolut. You may also be able to find a selection of Indian whiskey, such as Blenders Pride and Signature.
In addition to the traditional spirits, Delhi Airport also offers a range of liqueurs, such as Bailey's Irish Cream and Kahlua. And for the wine lovers, there is a selection of red, white, and sparkling wines available from various regions around the world.
If you're looking for a more budget-friendly option, there is also a selection of beers available at duty free prices. You can find both domestic and international brands, such as Heineken, Budweiser, and Kingfisher.
It's important to keep in mind that there are restrictions on the amount of liquor that can be purchased at duty free shops and brought into certain countries. Be sure to check the regulations of the country you are traveling to before making your purchase.
Overall, Delhi Airport offers a wide variety of duty free liquor options for travelers. Whether you're a fan of whiskey, wine, or beer, you're sure to find something to suit your taste. Just be sure to check the availability and regulations before making your purchase. Happy travels!
Here is the price list for Liquor in Delhi Airport Duty Free Shops :-
Liquor Name 

Price 

IGP Ardeche white Ls Terrasses
Rs 1,190
Freixenet Cordon oro
Rs 1,390
Martini Asti
Rs 1,590
Smirnoff No. 21 Vodka 1 Litre
Rs 1,590
Martini Rosso
Rs 1,590
Stolichnaya Vodka
Rs 1,590
Aperol
Rs 1,590
Smirnoff No. 57 Blue Vodka 1 Litre
Rs 1,690
Captain Morgan Original Spiced Gold Rum 1 Litre
Rs 1,690
Vat 69 Blended Scotch Whisky 1 Litre
Rs 1,690
Fundador Solera Reserve Brandy
Rs 1,790
Genesis Chardonnay Wine
Rs 1,790
Genesis Merlot Red Wine
Rs 1,790
Scottish Leader
Rs 1,790
Beefeater
Rs 1,790
Teacher's Highland Cream
Rs 1,790
Grant's Family Reserve
Rs 1,790
Finlandia Classic, 1 Litre, 80 Proof
Rs 1,890
William Lawson
Rs 1,990
Gordon's London Dry Gin 1 Litre
Rs 1,990
Jim Beam White Label
Rs 1,990
Mateus Sparkling Rose
Rs 2,090
Bacardi Superior 1 Litre
Rs 2,090
Absolut Grapefruit
Rs 2,090
Absolut Mandrin
Rs 2,090
Absolut Raspberry
Rs 2,090
Gordon's Premium Pink Distilled Gin 1 Litre
Rs 2,090
J&B Rare Blended Scotch Whisky 1 Litre
Rs 2,090
Jagermeister
Rs 2,090
Siberian Way Vodka
Rs 2,090
Zonin Special Cuvee Prosecco Brut
Rs 2,090
Absolut Vodka
Rs 2,090
Campari
Rs 2,090
Skyy Vodka
Rs 2,090
Bacardi Gold (Carta ORO)
Rs 2,190
Ballantine's Finest
Rs 2,190
Dewar's White Label
Rs 2,190
The Famous Grouse
Rs 2,190
Kahlúa Original Coffee Liqueur
Rs 2,290
Malibu Original
Rs 2,290
Molinari Sambuca Extra
Rs 2,290
Baileys Strawberries & Cream Liqueur 70CL
Rs 2,290
Johnnie Walker Red Label Blended Scotch Whisky 1 Litre
Rs 2,290
Beefeater Pink
Rs 2,390
William Lawson13 Year
Rs 2,490
Bushmills Original
Rs 2,490
Tanqueray London Dry Gin 1 Litre
Rs 2,490
Baileys Salted Caramel Liqueur 1 Litre
Rs 2,490
Baileys Original Irish Cream Liqueur 1 Litre
Rs 2,490
Rives Gin
Rs 2,590
Wolf BlassYL Cabernet Sauvignon
Rs 2,690
Bombay Sapphire
Rs 2,690
Tanqueray Malacca Gin 1 Litre
Rs 2,690
Tanqueray Flor de Sevilla Gin 1 Litre
Rs 2,690
Legende Bordeaux Blanc Lafite
Rs 2,790
Tenuta CaМ bolani Pinot Grigio
Rs 2,790
Bushmills Black Bush
Rs 2,790
Légende Bordeaux Rouge
Rs 2,790
Donnafugata Sedara Sicilia
Rs 2,890
Absolut 100
Rs 2,890
Bacardi Cuatro
Rs 2,890
Jameson Irish Whiskey
Rs 2,990
Jack Daniel's Tennessee Whiskey Old No. 7, 1 Litre, 80 Proof
Rs 3,090
Jack Daniel's Tennessee Fire, 1 Litre, 70 Proof
Rs 3,090
Jack Daniel's Tennessee Honey, 1 Litre, 70 Proof
Rs 3,090
Bulldog Gin
Rs 3,090
Drumshanbo Gunpowder Irish Gin
Rs 3,100
Caorunn Scottish Gin
Rs 3,190
Grants Triplewood 12 YO
Rs 3,230
Sheridan's Coffee Layered Liqueur 1 Litre
Rs 3,290
Ballantine's 12 Year Old
Rs 3,290
Jameson Caskmates Stout Edition Irish Whiskey
Rs 3,290
Chivas Regal 12 Year Old
Rs 3,390
Framingham Sauvignon Blanc
Rs 3,390
Amrut Nilgiris Indian
Rs 3,490
Jack Daniel's Bottled-In-Bond, 1 Litre, 100 Proof
Rs 3,490
Suntory Haku Vodka
Rs 3,590
Cointreau L'Unique
Rs 3,590
Loch Lomond Original Single Malt Whisky
Rs 3,590
Speyburn 10 Year Old
Rs 3,590
Reserve Speciale MÒdoc Lafite
Rs 3,690
Edinburgh Gin Distiller's Cut
Rs 3,690
Chateau Loudenne Cru Bourgeois Medoc AOC
Rs 3,790
Beluga Noble Russian Vodka
Rs 3,790
Monkey Shoulder Blend
Rs 3,790
Nederberg The Young Airhawk
Rs 3,890
Bacardi Ocho
Rs 3,890
Hendrick's Gin
Rs 3,890
Jodhpur Gin
Rs 3,890
Lambay Small Batch
Rs 3,890
Tanqueray No. Ten Gin 1 Litre
Rs 3,890
Jack Daniel's Gentleman Jack Tennessee Whiskey, 1 Litre, 80 Proof
Rs 3,890
Johnnie Walker Black Label Aged 12 YO Blended Scotch Whisky
Rs 3,890
Bulleit Bourbon Whiskey 1 Litre
Rs 3,990
Zouk Organic Single Estate Rye Vodka
Rs 4,190
Chivas Regal 13 Extra Oloroso Sherry Cask
Rs 4,190
Chivas Regal 13 Extra Rum Cask Scotch Whisky
Rs 4,190
3 Kilos Gold Ultra Premium Vodka
Rs 4,290
Bluecoat American Dry Gin
Rs 4,490
Corralejo Blanco Tequila
Rs 4,490
Star Of Bombay
Rs 4,490
Shieldaig Speyside Single Malt
Rs 4,490
Bulleit 95 Rye Bourbon Whiskey 1 Litre
Rs 4,490
The Singleton of Glendullan
12 Year Old Single Malt Scotch Whisky 1 Litre
4,590
Ciroc Snap Frost Vodka 1 Litre
4,590
Oxley Cold Distilled London Dry Gin
4,590
Sipsmith London Dry Gin
4,590
Teeling Small Batch Irish Whiskey
4,590
Amrut Two Indies Rum
4,590
The Glenlivet Founder's Reserve
4,590
Woodford Reserve Kentucky Straight Bourbon
Whiskey, 1 Litre, 90.4 Proof
4,590
Scapegrace Classic Premium Gin
Rs 4,690
Grants Triplewood 12 YO Twin Pack
Rs 4,790
Dewar's 15 YO 1 Litre
Rs 4,790
Scapegrace Classic Premium Gin
Rs 4,790
Bowmore Aston Martin 10YO
Rs 4,790
Grey Goose Le Citron
Rs 4,990
Redbreast 12 Year Old Irish Whiskey
Rs 4,990
Belvedere Pure Vodka
Rs 4,990
Grey Goose Vodka
Rs 4,990
Old Pulteney 2006
Rs 4,990
Glen Scotia Campbeltown 1832
Rs 4,990
Chivas Regal 12 Year Old Twin Pack
Rs 5,090
Jack Daniel's Tennessee Whiskey Old No 7, 80 Proof 2X1 Litre
Rs 5,090
The Glenlivet Triple Cask Matured
Rs 5,090
Glenfiddich Vat1 Perpetual Collection
Rs 5,090
Cloudy Bay Chardonnay 2014
Rs 5,190
ohnnie Walker Black Label Aged
12 YO Blended Scotch Whisky 2×1 Litre
Rs 5,190
Martell vs
Rs 5,190
Absolut Elyx
Rs 5,390
Santa Teresa 1796 Rum
Rs 5,390
Roberto Cavalli Vodka Orange
Rs 5,390
Shackleton
Rs 5,490
Kremlin Award Grand Premium Vodka
Rs 5,590
The Glenlivet 12 Year Old
Rs 5,590
Roberto Cavalli Vodka Gold Edition
Rs 5,590
Glenmorangie Original 10 Year Old
Rs 5,590
Aberfeldy 12 Year Old
Rs 5,690
The Botanist Islay Dry Gin
Rs 5,690
Teeling Single Grain Irish Whiskey
Rs 5,790
Johnnie Walker Island Green
Blended Scotch Whisky 1 Litre Travel Exclusive
Rs 5,790
Talisker 10 Year Old Single Malt Scotch Whisky 75CL
Rs 5,890
Johnnie Walker Gold Label Reserve Icon
Rs 5,990
Chivas XV
Rs 5,990
Johnnie Walker Gold Label Reserve
Blended Scotch Whisky 1 Litre
Rs 5,990
Courvoisier VSOP Cognac
Rs 6,090
Hennessy V.S
Rs 6,190
Ballantine's 17YO
Rs 6,290
Glenmorangie The Accord 12 Year Old
Rs 6,290
Mortlach 14 Year Old Single Malt
Scotch Whisky 75CL Travel Exclusive
Rs 6,390
Johnnie Walker Black Label
Aged 12 YO and Johnnie Walker Double Black
Rs 6,490
Cavalli Tenuta Degli Dei IGT
Rs 6,490
Tamdhu Speyside 12 YO
Rs 6,490
Chita Suntory Whisky 43%
Rs 6,690
Jura The Road
Rs 6,790
Chivas Regal Gold Signature 18 Year Old
Rs 6,790
Macallan Quest 40%
Rs 6,890
Dewars 15 YO 2X100CL
Rs 6,990
Grey Goose Twin Pack 2X100CL
Rs 6,990
Kavalan Classic Single Malt
Rs 7,090
Johnnie Walker Aged 18 Years
Blended Scotch Whisky 75CL
Rs 7,190
Talisker Skye Single Malt Scotch Whisky 1 Litre
Rs 7,190
Ardbeg
Rs 7,190
Johnnie Walker Black Label and
Johnnie Walker Gold Label Reserve 2×1 Litre
Rs 7,390
Suntory World Whisky 43%
Rs 7,490
Belvedere Single Estate
Rye Vodka – Lake Bartezek
Rs 7,490
Johnnie Walker Double Black
Blended Scotch Whisky 2×1 Litre Twin Pack
Rs 7,690
Jura Single Malt Scotch Whisky The Bay 12 YO
Rs 7,790
The Glenlivet 15 Year Old
Rs 7,890
Rampur Double Cask
Rs 7,990
Martell VSOP
Rs 7,990
Redbreast 15 Year Old Irish Whiskey
Rs 8,190
Ardbeg An Oa
Rs 8,390
Dewar's 18 YO 1 Litre
Rs 8,390
Talisker Dark Storm Single Malt
Scotch Whisky 1 Litre Travel Exclusive
Rs 8,390
Glenmorangie The Elementa 14 Year Old
Rs 8,390
Longmorn 18 YO 70CL
Rs 8,590
Rémy Martin VSOP
Rs 8,890
Mortlach 16 Year Old Single Malt Scotch Whisky 75CL
Rs 8,990
Johnnie Walker Gold Label
Reserve Blended Scotch Whisky 2X1 Litre
Rs 8,990
Laphroaig PX Cask
Rs 8,990
Rampur Asava 75CL
Rs 9,290
Chivas Regal 12 YO and Chivas XV
Rs 9,380
The Macallan Lumina
Rs 9,390
Johnnie Walker 18 YO
Rs 9,490
Bowmore 18 Year Old
Rs 9,590
Chivas Regal 18 Year Old
Rs 9,590
Glenmorangie The Tribute 16 Year Old
Rs 9,590
Hennessy V.S.O.P Privilège
Rs 9,690
Jura Single Malt Scotch Whisky The Sound Twin Pack
Rs 9,990
The Dalmore 12 YO
Rs 9,990
Bacardi 16 YO
Rs 10,290
Hibiki Master Select 43%
Rs 10,790
Jura 19Yo The Paps
Rs 10,790
Laphroaig The 1815 Legacy Edition
Rs 11,090
Ballantine's 21 Year Old
Rs 11,290
Otard XO Cognac 1980s
Rs 12,390
Royal Salute 21 Year Old
Rs 12,490
Glenmorangie 19 Years Old
Rs 13,790
The Dalmore 15 YO
Rs 14,290
Martell Cordon Bleu Cognac
Rs 14,390
The Dalmore Cigar Malt
Rs 15,390
Royal Salute 21 Year Old
Rs 17,090
Aberfeldy Madeira Cask 21 YO
Rs 18,190
Martell XO
Rs 18,390
Baron Otard XO Gold
Rs 19,690
Balvenie 19 Week of Peat 48.3
Rs 19,790
Glenmorangie Signet
Rs 20,390
Hibiki Masters Select Special Edition 43%
Rs 21,790
Royal Salute 25 Year Old
Rs 23,190
Ardbeg 19 Years
Rs 24,690
Royal Salute 21YO 2X700 ML
Rs 24,980
Johnnie Walker Blue Label Blended Scotch Whisky 1 Litre
Rs 25,190
Krug Grande Cuvée
Rs 26,190
Hennessy X.O
Rs 26,490
Dewar's 25 YO 750ML
Rs 28,890
Remy Martin XO Excellence 40%
Rs 31,790
John Walker & Sons King George V Blended Scotch Whisky 75CL
Rs 48,090