New Delhi World Book Fair 2023
The New Delhi World Book Fair (NDWBF), which has been held annually for the past 50 years, is a significant event in the publishing world and its 31st edition is scheduled to take place from 25 February to 5 March 2023. The Fair will be held at the newly constructed Halls 2-5 GF, located at the central Pragati Maidan in New Delhi, and is organized by the National Book Trust, India, in collaboration with the India Trade Promotion Organization, an autonomous organization of the Government of India under the Ministry of Education.
The Indian publishing industry is at a crucial point of growth and NDWBF 2023 presents an exceptional opportunity for exhibitors to conduct business with this burgeoning sector. The Fair is also an ideal platform for promoting titles, co-publication arrangements, and trade, in addition to hosting various literary and publishing conferences and programs. Furthermore, the Fair provides access to the publishing and intellectual world of South Asia and attracts participation from major publishing houses worldwide.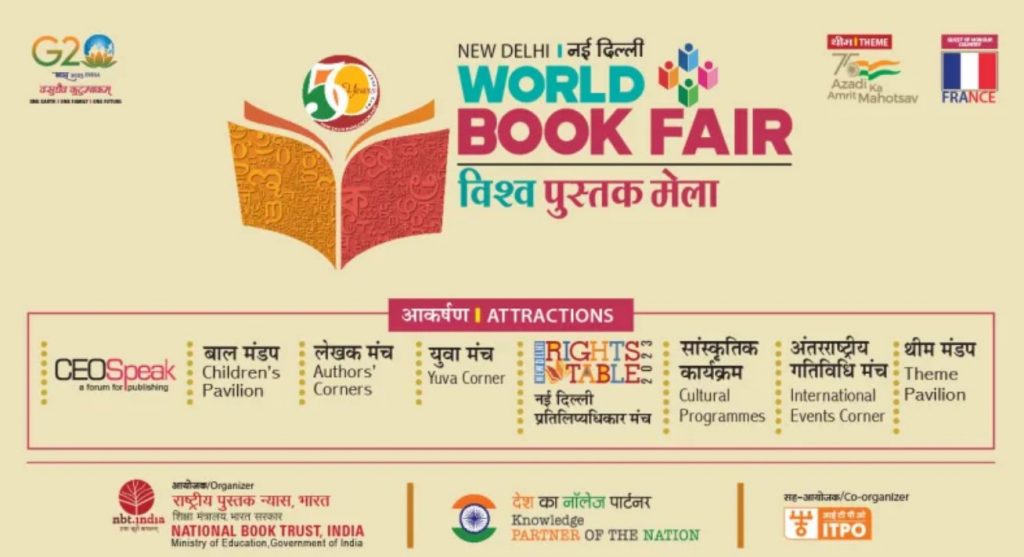 General Information
Organizer : National Book Trust, India
Ministry of Education, Department of Higher Education, Government of India
Venue : Pragati Maidan, Mathura Road, New Delhi.
Date & Venue of Delhi Book Fair 2023
Date for the event : Delhi Book Fair 2023 –  25 February – 5 March 2023
Timings for the Delhi Book Fair 2023 – Time: 11 a.m. to 8 p.m.
Nearest Metro Station
Supreme Court (Pragati Maidan) Metro station on blue line.
Delhi Book Fair Tickets Booking
It is important that you are aware of where tickets can be purchased. Tickets can be purchased at the Pragati Maidan entrance and selected Metro Stations too, but if you prefer to book tickets online, you can do so through following link.
Official website – link here
Category

Ticket Price

Kids Ticket 
For children 5-12 years
Rs. 

10

Adult Ticket
For everyone above 12 years of age
Rs. 

20
Directions for Delhi Book Fair 2023
Check out the following details on how you can easily visit Delhi by the following means of public transport without any hassle.
Nearest Major City.  Noida
Nearest Airport.  Indira Gandhi International Airport
Nearest Railway Station. New Delhi Railway Station
Distance from Noida. 25 Km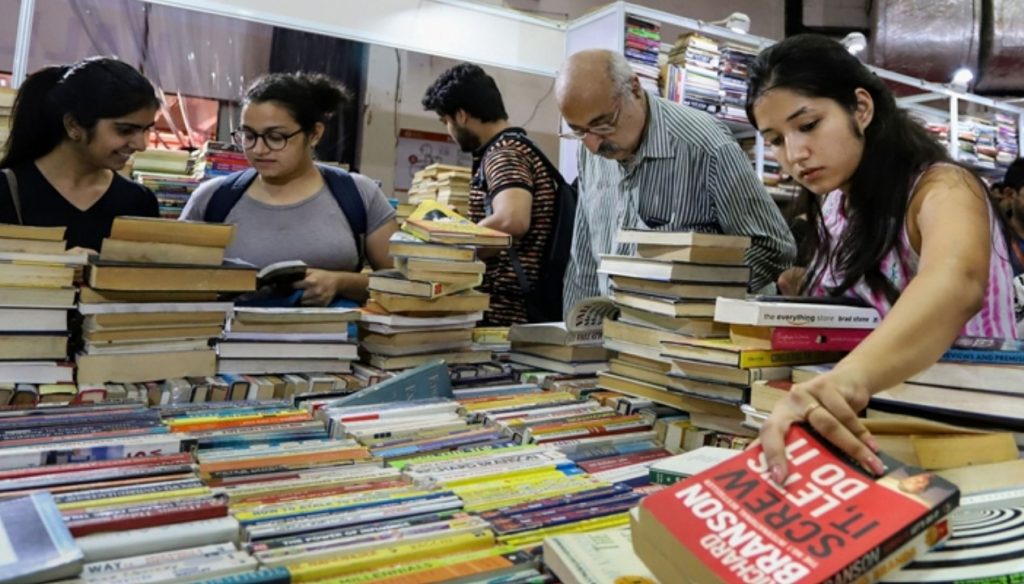 Attractions of the Delhi Book Fair 2023
Theme – Azadi Ka Amrit Mahotsav
Azadi Ka Amrit Mahotsav is a government-sponsored festival commemorating India's 75 years of independence by highlighting the country's modern achievements and the remarkable achievements of its people over that time.
the arts and scientific progress. This celebration, known as the Mahotsav, is held in honour of the Indian people and represents everything that is modern and progressive about India's social, cultural, political, and economic character. The NDWBF 2023 has selected Azadi Ka Amrit Mahotsav as its topic, and several literary and cultural events will be held around the theme over the fair's days to coincide with the Festival's widespread celebration.
Kid's Pavillion
Skits, dramas, street plays, musical presentations, storytelling sessions, seminars, panel debates, etc. are just some of the events that take place in a dedicated Children's Pavilion to encourage young people to read and develop a love of books. Teachers and students from a wide range of public and private schools, as well as members of the nonprofit sector, participate in these events, which are led by well-known authors and illustrators and education and publishing industry professionals.
Authors' Corners
The beautifully curated Writers' Corners set up across the Fair's several halls provide the ideal setting for conversations, panels, and book releases among the country's own publishing industry, authors, and readers. Reflections & Conversations, Lekhak Manch, and Sahitya Manch are all names that have come to be associated with the vibrant literary activities that take place in these gathering spots for the public.
Yuva Spot
As part of the India@75 festivities and as a way to honour the independence fighters of India's past, the Ministry of Education (Government of India) has developed a programme called YUVA-Prime Minister's Program for Mentoring Young Writers to provide guidance to aspiring writers. The 75 young authors selected in this way through an All India Contest would have been mentored by well-known writers and their novels will soon be published. In the YUVA corner, these authors will engage in conversation with readers, attendees, and other panellists.
Kid's Author Corner
The NBT will host a unique Corner for established children's authors, where they may talk about their works, their writing heroes, and their favourite authors.
International Events
It's a fun place to meet other people who share your interests in literature and philosophy. Booking time at the Events Corner is recommended for foreign Exhibitors, Missions, Embassies, Cultural Centres, and Book Promotion Agencies to host events such as Book Launches, Panel Discussions, Literary Programmes, and Workshops for both children and adults.
CEO Speak
On the sidelines of the Fair, National Book Trust, India and FICCI will host the B2B event CEO Talk over Chairman's Breakfast for the CEOs and Senior Executives to network and discuss the book trade in India and around the world.
New Delhi Rights Table
It's going to be one of the best parts of the New York Winter Wine & Food Festival (NDWBF), which takes place on February 27–28, 2023. As a novel take on doing business, the New Delhi Rights Table facilitates B2B match making sessions between publishers. This event is unlike any other because it allows exhibitors to reserve their very own Rights Table, where they may network, showcase their wares, and reach a consensus on the transfer of translation and other rights for books published in English, Hindi, and other Indian languages.
Cultural Events
Cultural performances by prominent organisations like the Song and Drama Division, Sahitya Kala Parishad, etc. are organised by NBT as an adjunct to the New Delhi International Book Fair. The cultural programmes that were put on for the celebration were very well welcomed, especially by the international guests who attended.
FAQ Delhi Book Fair 2023