Delhi Book Fair  | Gift Expo | Stationary Fair | Office Automation Fair 2022
From December 22-26, 2022, Pragati Maidan in New Delhi is hosting the 26th annual Delhi Book Fair (Halls 3 and 4), the 22nd annual Stationery Fair, the 6th annual Office Automation, and the 6th annual Corporate Gift Fair, all under the auspices of the India Trade Promotion Organization. The Federation of Indian Publishers is collaborating on this event. Reading is an important habit that should be encouraged at all ages, and book fairs may play a big part in doing just that. As the largest book feast eagerly anticipated by students, professors, academics, authors, intellectuals, librarians, and book enthusiasts, the Delhi Book Fair is playing a crucial role in reinforcing the power of the pen and the printed world.
The fair showcases a huge panorama of Indian books on a variety of subjects in addition to promoting literacy and reading habit, especially among children and young. In addition to offering retail options thanks to the large number of attendees, the fair also serves as a unique platform for business-to-business transactions, networking, co-publishing agreements, translation and copy right agreements, and reprinting of old and rare books. Conferences and seminars, buyer and seller meetings, new book launches, panel discussions, children's literary events, and author appearances will all be scheduled over the duration of the Fair. Parallel to this event, the Stationery/Office Automation and Corporate Gifts Fair showcases complementary products.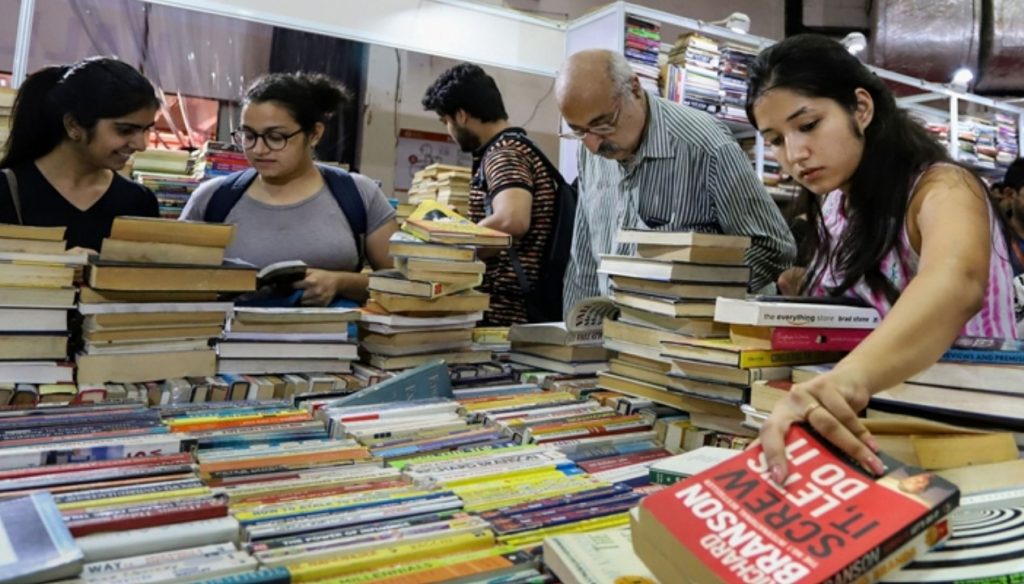 Date & Venue of Delhi Book Fair 2022 
Date for the event : Delhi Book Fair 2022 –  Dec 22-26, 2022
Timings for the Delhi Book Fair 2022 – Time: 10 a.m. to 6 p.m.
Delhi Book Fair Tickets Booking
It is important that you are aware of where tickets can be purchased. Tickets can be purchased at the Pragati Maidan entrance, but if you prefer to do so online, you can do so exclusively through the Delhi Book Fair's official website.
Cost is INR 30/- for kids and INR 50/- for adults.
Directions to Delhi for the 2022 Book Fair
Check out the following details on how you can easily visit Delhi by the following means of public transport without any hassle.
Nearest Major City.  Noida
Nearest Airport.  Indira Gandhi International Airport
Nearest Railway Station. New Delhi Railway Station
Distance from Noida. 25 Km
Delhi Book Fair: A Historical Perspective
It was due to the overwhelming success of the Kolkata Book Fair that the Delhi Book Fair was established. The first-ever book fair was held in Delhi from March 18 to April 4, 1972. India's then-president, V.V. Giri, organised a successful book fair. Presented annually in Delhi, this spectacular event is co-organized by the ITPO (India Trade Promotion Organization) and NBT (The National Book Trust). People from all walks of life, including students, librarians, professors, scholars, intellectuals, authors, and book fans, eagerly await this fair each year in the hopes of making connections with some of the world's most creative authors and enhancing their own collections.
Attractions of the Delhi Book Fair 2022
All the newest books are for sale and you can meet new people and share or offer ideas at this fantastic event. What could be more exciting than having the chance to talk with your favourite writers in person?
Cultural Events and Presentations
Definitely a fascinating feature of the book expo. Cultural performances in the fields of drama, acting, dance, and more are put on by illustrious organisations to increase the event's merriment factor. Main contributors to this magnificent nook are the Sahitya Kala Parishad and the Song & Drama Division.
The Pavilion for Young Visitors
Fantastic skits, plays, dramas, storytelling, workshops, street performances, musical presentations, and Q&A sessions with the panellists are all on tap for this area. Children's Pavilion organisers include artists and authors with a flair for kid-friendly fare.
A Spot for Young Writers
It's a great place for your kids to connect with their favourite authors, discuss their writing goals and inspirations, identify subjects, and more.
Yuva Corner
This magnificent area has been set up by the Book Fair to remember the brave individuals who fought for India's independence. After the "YUVA Prime Minister's Scheme for Mentoring Young Authors" was implemented, 75 aspiring authors were chosen to be mentored by established authors. At The Yuva Corner, you might have fascinating conversations with acclaimed authors and other panellists.
The Writer's Digest
The Author's Corner, or Lekhak Manch, is an impressively built location that provides a level playing field for events including book launches, panel discussions, domestic publishers, and two-way dialogues between the public/visitors and the major writers.
Annual International Events Roundup
A lively place to improve one's literary understanding, expertise, and one's ability to share and receive amazing thoughts and insights. Several well-known worldwide exhibitors, Book Promotion Agencies, Embassies, Cultural Centers, and Missions, among others, organise Book Launches here.
Chief Executive Officers' Remarks
Attendees at the CEO Speak over Chairman's Breakfast, a business-to-business publishing event hosted by FICCI and the National Book Trust India, tend to be CEOs and other high-ranking executives. Here, you can share what you've learned about book trading and more.
FAQ Delhi Book Fair 2022