Garden of Five Senses Delhi Timings
Day 

Timings

Monday
October to March : 9 am – 6 pm
April to September  : 9 am – 7 pm
Tuesday
October to March : 9 am – 6 pm
April to September  : 9 am – 7 pm
Wednesday
October to March : 9 am – 6 pm
April to September  : 9 am – 7 pm
Thursday
October to March : 9 am – 6 pm
April to September  : 9 am – 7 pm
Friday
October to March : 9 am – 6 pm
April to September  : 9 am – 7 pm
Saturday
October to March : 9 am – 6 pm
April to September  : 9 am – 7 pm
Sunday
October to March : 9 am – 6 pm
April to September  : 9 am – 7 pm
Garden of Five Senses Delhi Entry Ticket Fee
| | |
| --- | --- |
| Adults | Rs 35 |
| Children (up to 12 Years) | Rs 15 |
| Senior Citizens | Rs 15 |
| Specially abled | Free |
Garden of Five Senses Delhi Photography Charges
Pre-wedding Shoot, Post-wedding Shoot,
Family Shoot, Portfolio, Fashion Shoot etc.
Rs 3,000 + GST
Professional Camera
Rs 3,000 + GST
Half day for camera with zoom
Rs 59
Note – Photography and Videography with Drone Camera is not allowed
Garden of Five Senses Delhi Phone
Phone number – 011 2953 6401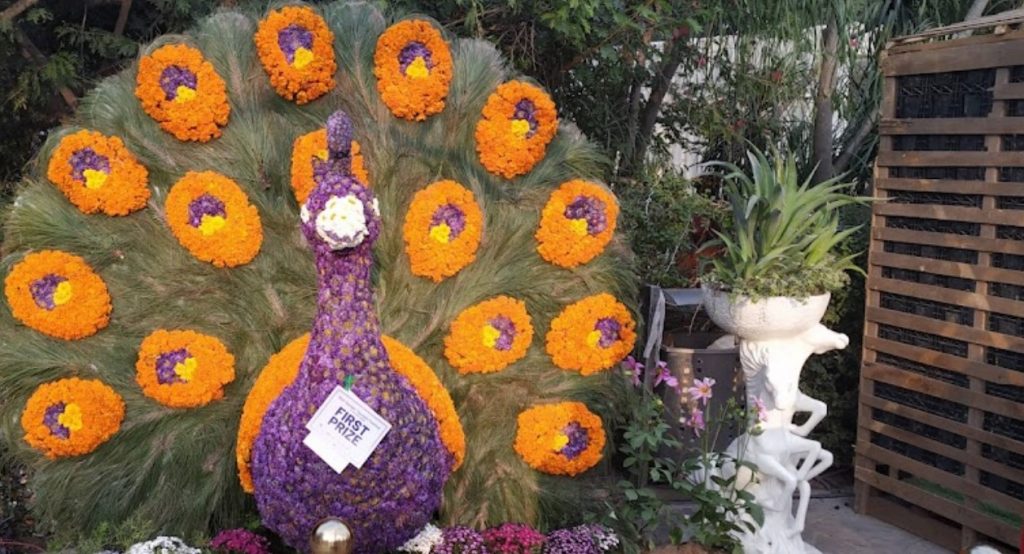 Design and Landscape at Garden of Five Senses 
There are various distinct areas inside the Garden of the Five Senses. This lovely garden is set back from the road by a plaza with low walls. Birds made of stainless steel perch atop pillars covered in slate at the main entrance. And local artisans in Rajasthan use sandstones to construct the Mughal-style walls. The massive stone elephants that greet visitors as they enter the garden were also crafted by these artists.
One enters the garden via a paved, spiral path. Also, Khas Bagh can be found to the right. Landscape elements include verdant lawns filled with colourful flowering bushes, a nod to the Mughal Gardens that served as an inspiration. The area also features multiple water fountains and a series of small waterfalls that together form a free-flowing stream of water. An outdoor amphitheatre is available for performances, exhibitions, and workshops in the Garden of the Five Senses.
Furthermore, the shopping centre and food court can be found just ahead. Neel Bagh is just around the corner, after which you'll see a series of stone silhouettes. Flowers of various colours and scents are abundant, and there is even a pond with water lilies.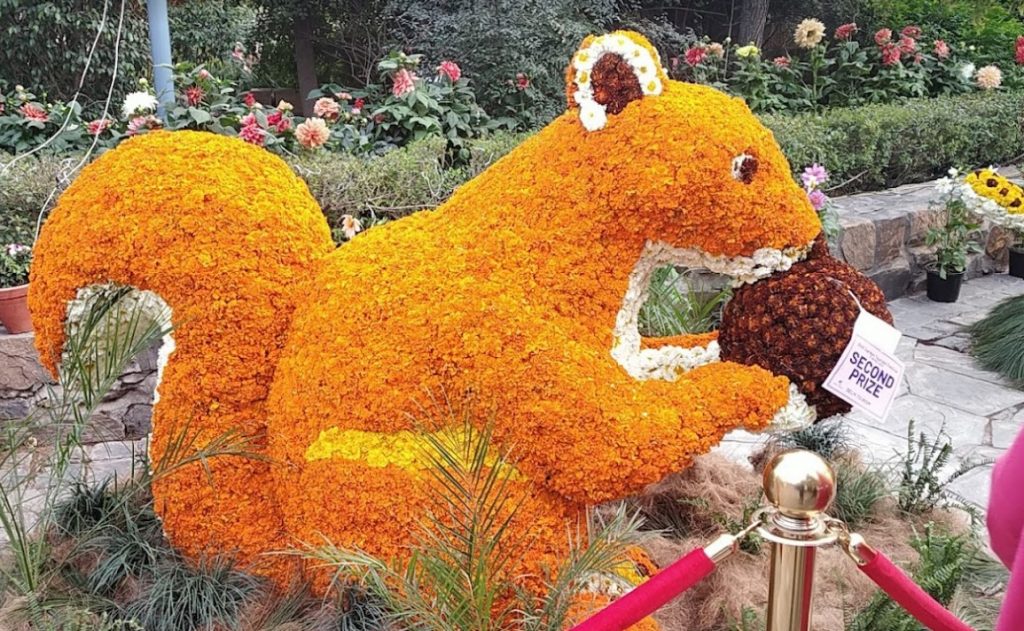 Best Time to visit Garden of Five Senses
There is no good time to visit the park, as the monsoons and summer heat make it unpleasant to travel around. Several shrubs wouldn't be flowering, and the lawns would be soggy for most of the day.
As a result, February and March are ideal months to visit the Garden of Five Senses. This time of year, the park is carpeted with a rainbow of blooms. And if you're lucky, you can also attend the amazing flower festival.
Things to do at Garden of Five Senses
Picnic – This garden is the perfect setting for a relaxing family picnic thanks to its lush grass, towering trees, and singing birds. You and the kids can run about on the grass, take pictures, and investigate the culinary options in the food court. Several quick-service restaurants, beverages, and snack foods are available. A marketplace within the garden sells souvenirs and local crafts.
Cultural Events – The Garden of the Five Senses is also a popular destination for cultural celebrations and performances. Plays and musical performances can be staged amidst the gardens, buildings, and fountains. A modest amphitheatre can be found among the picturesque lookouts. A stepped stone audience bench sits in the open air, while trees and other tiny flora form a natural backdrop. The lawns are also used for occasional community events like art workshops and Dandiya nights. Food festivals and a yearly flower exhibition are also held in the grounds.
Flower Show – Every year in late winter, around the months of February and March, the garden conducts a flower festival. In addition to the typical shrubs, the display features a wide range of vibrant floral arrangements and sculptures. There are also many booths selling plants and seeds at the Garden of Five Senses flower display.
Sculptures – The Garden of Five Senses features a wide range of modern stone and metal works. Birds made of stainless steel perch on the entrance of this park. The elephants made of pink sandstone are up next. The garden features various clay sculptures, as well as a windchime tower, a fountain tree, and a pond. There are also five statues depicting the five seasons (and five senses) and statues of children kneeling in prayer, both of which are worth viewing. The garden also features a miniature version of Mexico's Mayan Labna Arch. A stone arch of this magnitude is very impressive.
Stroll through nature – evening strolls through the garden are delightful. It is divided into numerous areas, each of which features its own unique collection of flowers, fountains, and scented bushes. The formal garden of Khas Bagh is known for its verdant lawns. The waterways, which are flanked with colourful plants, culminate in a series of waterfalls. Next, a string of fountains follows. Climbing plants of many shapes, sizes, colours, and textures may be found at Neel Bagh. There is a pool here adorned with water lilies. The Color Garden at the Garden of the Five Senses features numerous types of flowers and plants. The garden is home to about two hundred different species of plants, including both edible and medicinal herbs, exotic trees, and vegetables. It also features a Court of Bamboo, a Court of Palms, and a Court of Cacti, all of which are natural features.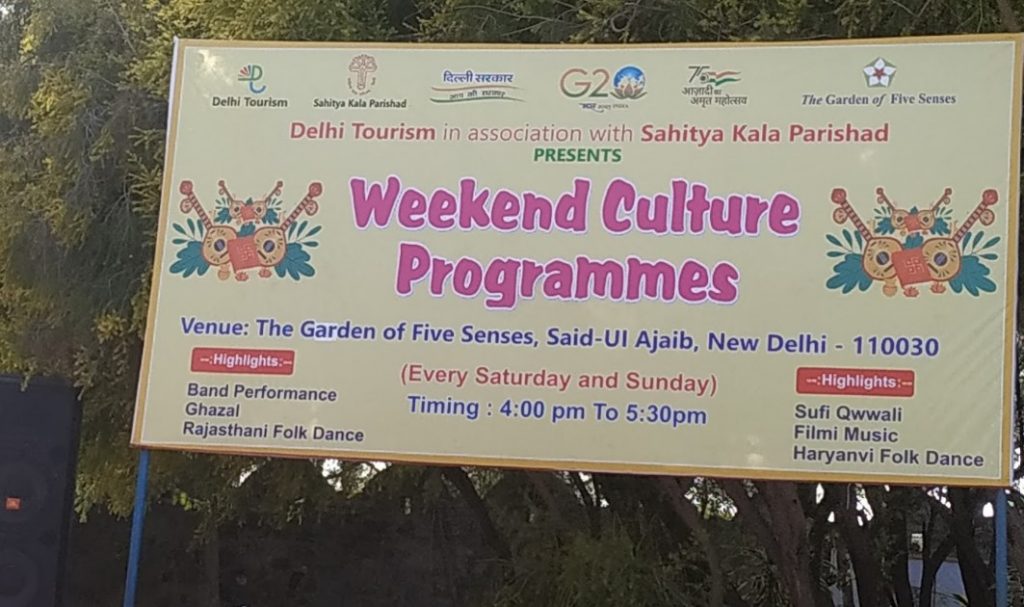 Places to visit near Garden of Five Senses
Qutub Minar – Just approximately 3 kms distant lies the UNESCO World Heritage Site of Qutub Minar. One of the world's highest minarets, it is crafted from red sandstone. There is grass outside, and everything else you need is right here in the complex. In addition to the minaret, you'll find an iron pillar, a mosque, and numerous tombs.
Rashtrapati Bhavan – It is admired for its stunning design. The Garden of the Five Senses is located 13 kilometres distant from here. Within the compound you'll find the official White House as well as many offices and public spaces. As well as the museum and gardens, it is home to the world-famous Mughal Garden. On weekends, you can also witness the changing of the guard.
Hauz Khas Fort is a ruined fort complex built during the reign of Allaudin Khilji and is located about 8 kilometres from the Garden of Five Senses. Here, visitors can enjoy the lake and lovely grass. Every night, a light and sound show is put on, detailing the history of Hauz Khas and other buildings in the area.
India Gate – Around 14 kilometres from the Garden of the Five Senses sits India Gate, a war memorial. It was built to commemorate the First World War deaths of Indian soldiers. There is also the Amar Jawan Jyoti, a perpetual light lit in memory of those who lost their lives during the 1971 Indo-Pakistani War. Recreational activities including boating, sight-seeing, and photography are also common in the area.
 Lotus Temple – Ponds and verdant grounds create a tranquil atmosphere at Lotus Temple. The Baha'i House of Worship is one of the seven most important Baha'i temples in the world. People of all faiths are welcome at the Lotus Temple. This temple is not dedicated to any particular deity, but rather to the idea that all faiths can coexist in harmony. The distance to the Garden of the Five Senses is around 10 kilometres.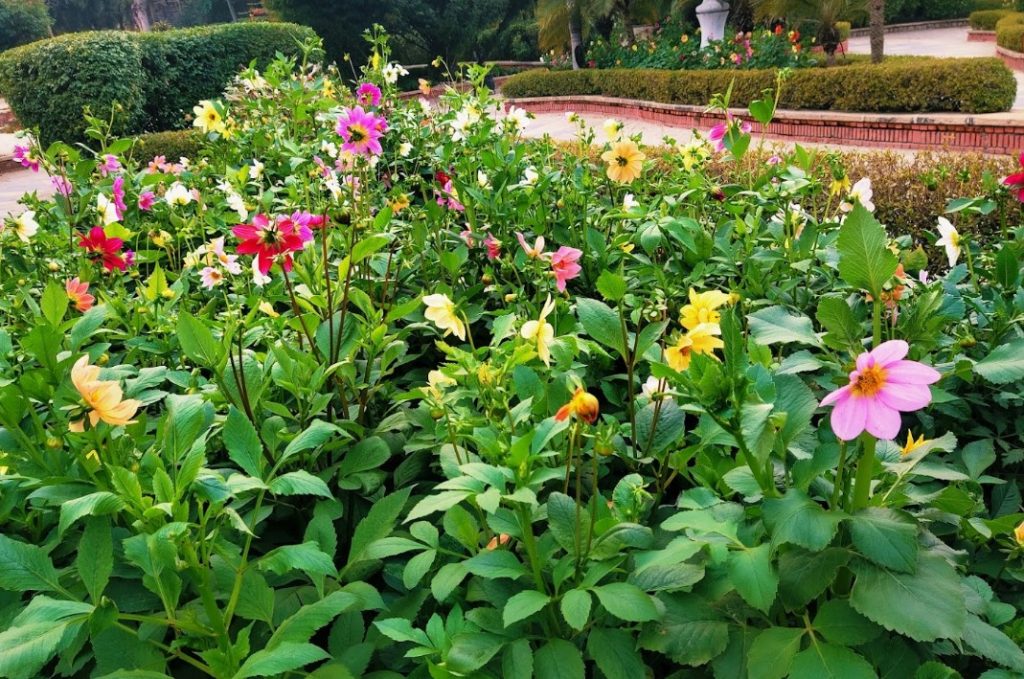 How to reach the Garden of Five Senses?
Metro Train – Saket Metro Station is closest to Garden of Five Senses.
DTC Bus – There is DTC Bus stop near to the Garden of Five senses. Other than that Saket is also a very prominent place where one can get DTC Bus.
By personal vehicles – There is ample car parking space which is on paid basis.
Ola/Uber/Taxi – This place well connected with taxi service and there is no such problem getting a cab to and from here.
Precautions to take in the Garden of the Five Senses
This Garden is mostly occupied by young couples, so in case you are visiting here with family and kids. You may find some couples sitting here in awkward positions.
Wear footwear that is suitable for walking in.
Always remember to bring some form of identification with you.
Keep your camera handy.
Avoid bringing plastic into the garden.
No outside food is permitted.