You could discover marketplaces in many Indian cities where vendors offer discounted pricing on name-brand products. By the way, in these markets, the name of the city of Delhi comes first. There are several such locations, such as Chandni Chowk, Nehru Place, and Palika Bazar, where 200 rupees may be purchased for 50 to 100 rupees. Additionally, there is a bazaar in Delhi where items priced between 100 and 200 rupees are offered for 50 rupees. Chor Bazaar is the name of this marketplace. Here, you may also find fresh things in addition to stolen stuff. Everything from clothing and shoes to cellphones, phone accessories, and technological products are offered here as well.
Chor Bazaar Delhi
Sunday is the ideal day to visit this market. This is so because Daryaganj, a very well-known book market, is located directly next to this one. You may view books in excellent condition at the correct price here. Everything is offered here, from novels to study guides for exams. The intriguing part is that all of the books are offered here at incredibly low costs. Here, books start at a cost of 20 rupees. In this market in Daryaganj, books are also offered at a price per kilogramme of Rs 100. Book enthusiasts would like this site.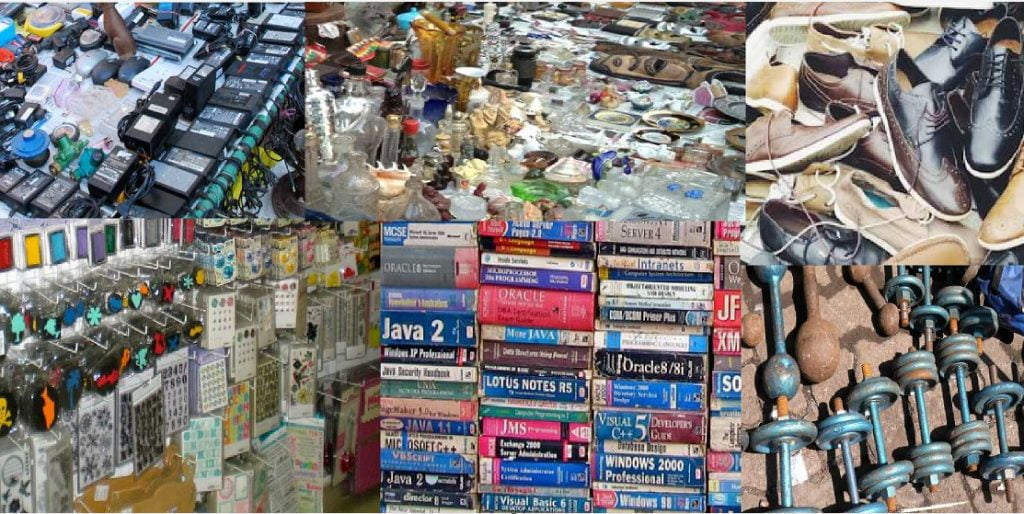 Items available in Chor Bazaar 
In Chor Bazaar, it's common to see merchandise that has been returned from reputable companies like Louis Vuitton, Raymonds, Zara, H&M, and Forever 21. For a price of Rs. 50, you may purchase expensive-expensive brands of fabric for a piece of apparel. You must arrive here on a Sunday early in the morning if you don't want to be a part of the leftovers at the end. Because such brands' products are extremely reasonably priced in the morning. You may see garments stacked on sheets laid out on the road at Chor Bazaar.
If you enjoy photographing a lot, you should visit the thieves market rather than a pricey location. In this market, you may get cameras and tools made by a wide range of excellent firms. In this location, pricey cameras start at Rs. 2000. You can get cameras from some of the top manufacturers here, including Fujifilm, Nikon, Panasonic, Sony, and Canon. Just remember that no merchant will catch you using a second camera.
Everything is available here, from cheap Chinese phones to the most recent iPhones. These phones may be purchased at incredibly low costs. The fascinating part is that an iPhone can be purchased here for less than 5,000 rupees. Additionally, you may discover affordable prices on a variety of phone accessories here, including earbuds, chargers, pen drives, SD cards, and headphones. By the way, it might be challenging to obtain a guarantee on these items, so be careful to find out more before using them.
You must have purchased your workout equipment to this point at a steep price from a store or ordered it online. However, Delhi's Chor Bazaar is a bazaar where large sports and gym equipment can be found at incredibly low costs. Additionally, you may get sporting equipment from here, like helmets, hockey sticks, knee pads, bats, and rackets. Brands from many different categories, such as Puma, Adidas, Nike, and Decathlon, may be found here.
You may find whatever you need in this market, whether it is apparel, accessories, or shoes of your choosing, at prices you cannot possibly fathom. Shoes and heels from several brands, including H&M, Forever 21, Aldo, Adidas, Nike, Puma, Reebok, Steve Madden, and Jimmy Choo, are offered here. Authentic footwear starts at Rs. 500 here. In addition, you can get designer handbags and purses from Louis Vuitton, Chanel, Gucci, Michael Kors, Steve Madden, and Charles & Keith from this store. These handbags are available here for 500 rupees.
Shopping Advice for Chor Bazaar
It is advisable to go to the market early in the day since there are less people there and everything is available, making it easier for you to shop. Given the crowds at the market, pickpocketing is a typical occurrence. Ensure that all of your valuables are kept inside and out of sight. Also, given the dearth of parking options in the market, take the metro to get there. It is the most convenient option. Sunday is the ideal day to visit this market since you may enjoy the adjacent Daryaganj Book Market, which is open exclusively on Sunday. The actual cost of the goods is far lower than what the shop owners claim. So, while shopping, don't be scared to utilise your negotiating talents to your advantage.
Not everything that is sold in the market is real. When shopping, you must be able to tell what is real from what is counterfeit. Check the products' legitimacy before purchasing electronics or branded goods. If you want to tour the market in its entirety, you must have at least two to three hours available before going. Many sold items are defective, so carefully inspect any item before purchasing. Carry cash, Cards won't function at Chor Bazaar for sure, although certain mobile wallets might.
Timings 
All Days, but recommended to go on Sunday, 5:00 AM to 5:00 PM
How To Reach
The quickest and most practical way to get to the market is by using the metro (Violet Line). Take the heritage line and leave at the Jama Masjid Metro station. From there, take gate no. 2 exit to the market, which is a short walk away. Given the crowded nature of these locations, cabs and taxis are not the best alternative. Autos can also be rented.